12/10/2021 –
Integrated into spooling line
6-axis Robot De-Palletizing Solution
"Interwire" 2021 will be Windak's first major trade show since the start of the Covid-19 pandemic. Visitors will be able to see the working principle of the Robot De-Palletizing system by visiting Windak Group at Stand 1530 during the event.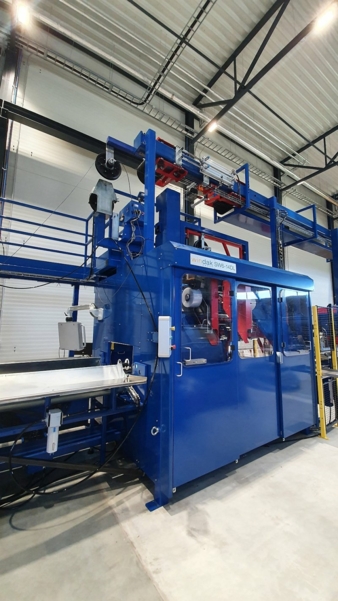 This year Windak is highlighting the Packaging theme including the 6-axis Robot De-Palletizing Solution that can be integrated into Windak's SW6-14 Spooling Line.
An industrial robot automatically loads empty 6.5" spools from the pallet into the Spool Winder SW6-14 and further increases the output.
 The cycle times are significantly reduced and reliability increased. With all cables and hoses firmly secured, movements are easily predicted making off-line programming and simulations perfect representations of the actual robot system.
The informative presentation from the management team will be covering such topics as 1) New production facility in Estonia, 2) Packaging theme- types of packaging offered by Windak Group, 3) Introducing a new spare parts campaign, 4) New upgrades and developments during 2020-2021. e.t.c.
The company's core business is to provide its customers with high speed innovative automated cable packaging equipment to help them achieve their business goals, improve their returns and reduce costs. Windak offers standard and customized automatic spooling, coiling and rewinding lines with a variety of different options.
"We believe that this event provides a good opportunity to show the target audience all the advantages of our new products, to see what is happening on the market, what are the ways of development. In addition, Interwire creates an excellent professional communication environment in which we meet existing and potential partners" says Olga Berlinberg, Marketing Manager of Windak Group. Continuously offering its customers new ways to improve is incorporated in Windak Group's long-term strategy.
As stated on the official website of the tradeshow "Interwire will bring you back to the future of wire making with an Industry 4.0 theme. Automation, AI, robotics, data analytics, and machine learning affect the way wire is made and how well companies compete on the world stage."
The show offers a great opportunity to network and attract new potential customers, build brand awareness, and meet all the key companies in the cable industry after such a long time without the possibility of face-to-face meetings.
Windak Group
Interwire 2021, booth 1530
Tel.: +372 655 9411
www.windakgroup.com