14/12/2020 –
Foundation of third business division
Konstant has invested in Gebauer+Griller Metallwerk
Konstant group in Innsbruck/Austria has acquired a stake in the traditional metalwork company Gebauer+Griller Metallwerk in Linz/Austria, despite the challenges of current times. The company will trade under a new name which suitably matches its own specialty: "hpw – high performance wires".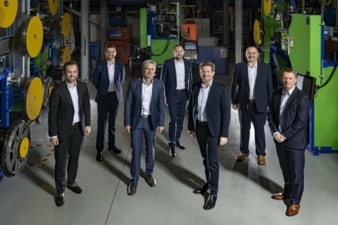 In addition to the further development of its core business of flat wires for the wind energy industry and special alloys for cables and welding, the new field of e-mobility will be a particular focus for expansion. At the Upper Austrian production site, several millions are being invested in new, highly automated equipment, enabling future e-mobility contracts to be fulfilled. The center for innovation and development will remain in Linz, although the plan is to expand internationally, alongside respected customers from the wind energy and automobile industries.
Over 70 years of production in Linz have provided excellent levels of knowledge and competence in the core fields of metallurgy, shaping for flat wires, and insulation technology, resulting in the company's current position as an important supplier to international companies. Multi-functional and partially patented round and flat wires have been developed and manufactured for the wind energy, electricity, cable, and welding industries, as well as for the e-mobility sector. "These core competencies and particularly decades of experience within a highly motivated team are the ingredients, which produce a hidden champion," says managing director and co-owner Dietmar Gstrein. "From our first meeting, we were impressed by the engineers and technicians, who largely designed and built the highly complex manufacturing equipment themselves, together with in-house experts and external specialists," adds Gstrein.
The new e-mobility production site in Linz, currently under construction, will manufacture flat wires for the latest generation of electric motors, including for several leading automobile manufacturers. Respect, esteem and humility are the values which have always been the guiding principles and the practice of the Gebauer+Griller Metallwerk GmbH, which explains why the company has never boasted of its status despite many innovations and successes, and why the names of its customers remain a secret, respecting their confidentiality.
"The personal chemistry between us and the team at Konstant has been a perfect match from the outset. We were rapidly convinced by the sustainable philosophy and the commitment to investing in and further developing the site in Linz with us," explains managing director Dr. Ewald Koppensteiner, who, together with his experienced team, has been responsible for many innovations and developments for nearly thirty years. The company currently employs about 180 workers and has a turnover of over €60 million. In the coming years, the group of companies will expand thoughtfully and sustainably, through strategic acquisitions and investments in a wider range of enterprises.