21/11/2023 –
WAI-Conference in Monterrey, Mexico
"International Technical Conference and Suppliers Market"
The Wire Association International (WAI), Inc.draws 200+ participants to its "International Technical Conference and Suppliers Market" in Monterrey, Mexico.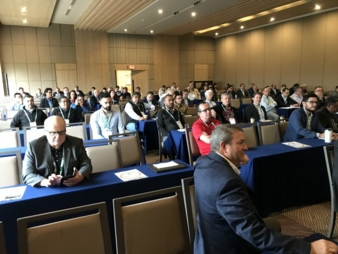 The Wire Association International (WAI), Inc. reports it completed another popular educational program and Suppliers Market in Monterrey, Mexico, at the Crowne Plaza Hotel, November 13-15, 2023, which marks the fourth staging of the event in Monterrey.
Commenting on the occasion 2009 WAI Past President Antonio Ayala said "The conference had first-class presentations that were informative for all personnel levels. The table top exhibits in the Suppliers Market were of high quality and staffed with technical people. All enjoyed the meal and music at the welcome dinner. And the visit to the Viakable plant was both well planned and well received. Overall the conference was a success."
Seven presentations were held throughout the day Monday beginning with a panel discussion among wire and cable executives about the challenges and opportunities that will define the industry over the coming years. Panelists included Felipe Martinez, CEO, Kobrex, S.A. de C.V.; Andres Guerra Siller, Commercial director of mesh and wire, De Acero S.A.P.I. de C.V.; and Wesley Rios, Commercial director of Viakon México, Viakable. The session was moderated by 2023 WAI President, and President of SDI La Farga Copperworks, Kurt Breischaft.
Nine presentations were given Tuesday. Both days featured activity in the adjacent Suppliers Market, where representatives from 34 exhibiting companies met with attendees.
Visitors toured both the Viakable plant to see the company's continuous casting operations and its Technical Center.
Sponsors: Calmec, Cemanco, Fort Wayne Wire Die, Frigeco USA, SDI La Farga Copperworks, Setic/Pourtier, Thermoplastics Engineering Corp., Troester GmbH+Co. KG, and Viakon/Viakable
Conference Committee: 2009 WAI Past President Antonio Ayala of AA Enterprise; Raúl Garcia director of technology and engineering, Viakable; and Eugenio Urbina, director business development, Troester.