08/01/2022 –
Expanded space for development, service workshop and seminars
Buehler at new address
Buehler ITW Test+Measurement GmbH has relocated its German headquarters, including development and service workshop, from Esslingen to Leinfelden-Echterdingen, which is conveniently located near Stuttgart Airport and the trade fair centre.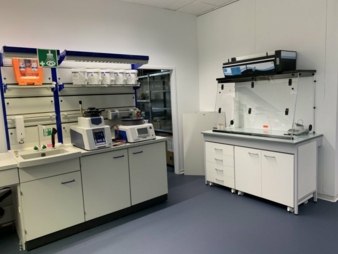 Just in time for the celebration of the 85th anniversary, the new premises offer the 12 employees plenty of space on two floors for more comfortable working in a friendly atmosphere. From there, Buehler also coordinates the cooperation with its Bremen-based partner Omnilab. As one of the largest independent specialist laboratory dealers in Germany, the latter took over the warehousing for the diverse systems, spare parts and consumables used in materialography and material analysis as well as the customer service at the end of 2020.
The spacious laboratory is equipped with state-of-the-art technology for the preparation of materialography samples as well as the latest generation of hardness testers and the corresponding testing software. It is available for the solution of specific tasks and problems of national and international customers as well as for seminars and training courses. The first test run will be at the beginning of the year with the start of the "Sum Met" courses, in which Buehler will impart specialist and detailed knowledge on the preparation and evaluation of material samples.
About Buehler
Buehler – ITW Test+Measurement GmbH, Leinfelden-Echterdingen/Germany has been a leading manufacturer of instruments, consumables and accessories for metallography and materials analysis since 1936, and also supplies a comprehensive range of hardness testers and hardness testing systems. A dense network of branch offices and dealers means our customers can rely on professional assistance and service around the world. The Buehler Solutions Centers in Esslingen and Dusseldorf/Germany, Dardilly/France, Coventry/UK and elsewhere can offer all kinds of assistance with application questions or with devising reproducible preparation procedures. Buehler is part of the Test and Measurement Segment of the US company Illinois Tool Works (ITW) with some 800 decentralized divisions in 52 countries and around 45,000 employees