13/10/2021 –
The 31st edition of the International Machine-Tool Biennial Exhibition in Bilbao
"BIEMH" 2022 was presented at EMO Milan
The 31st edition of the International Machine-Tool Biennial Exhibition has been presented in Milan with the same essence as ever, which has now been strengthened. The EMO fair is the starting point for the launch of the international campaign for "BIEMH", which is back as a strategic event for the economic revitalisation of Industry 4.0.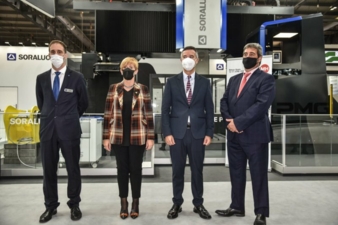 Arantxa Tapia, Basque Government's Minister for Economic Development, Sustainability and Environment; Xabier Basañez, General Director at Bilbao Exhibition Centre; Xabier Ortueta, Managing Director of AFM Cluster and Pello Rodríguez, General Manager of Danobat Group and Vice-President of Corporación Mondragón, participated in the event.
"The opening up of international mobility has enabled us to meet here at 'EMO Milan' to exhibit the most cutting-edge machine-tool industry and there is no better place than this showcase to present our industrial event par excellence: the International Machine-Tool Biennial. It is an event that will be held in 2022 with renewed enthusiasm, only too aware of what the cancellation of the 2020 edition meant for the sector. And we are looking to not only recover what has been lost, but also to take a qualitative leap and position the Basque Country on the wave of the future as an innovative industrial country and an international benchmark", declared Arantxa Tapia during the opening of the event which took place at the Soraluce stand. "With the economic recovery, the objective for 2024 is to increase the industrial weight and that of advanced services in our overall Gross Domestic Product, combining our manufacturing capacity with the supply of advanced services. We are talking about a revamped, modern, digital, inclusive and sustainable industry. We will continue to develop and improve our Basque Industry 4.0 strategy within the context of digital transformation, with the creation of a Data Center that will interact with the Basque Cybersecurity Center", she explained.
"The 2022 BIENNAL will count on public-private support to strengthen the Basque Country's industrial vocation for an innovative and sustainable industry. In addition to producing and providing advanced services, we will redouble our efforts to promote and market a 2022 Biennial that I hope will be held and remembered as it deserves to be, and it will serve as a launchpad to exhibit the technological muscle of the Basque Country of the future", added Arantxa Tapia.
"The International Machine Tool Biennial is one of the leading industrial meetings in Europe and will offer its best version in 2022 to become a major meeting platform. The fair will be a key space to regain direct contact and provide a further boost to innovation, personal networking and business operations. We will go back to shaking hands and doing business", highlighted Xabier Basañez, General Director at Bilbao Exhibition Centre.
"We have also kept the brand's customary slogan and transformed it into You make it big again to thank participating companies, now more than ever, for their innovative spirit, ambition and loyalty", he went on.
In fact, the soundness of BIEMH is a clear reflection of the strength of its exhibitors, who are at the forefront of technological breakthroughs and tailor-made solutions.
Xabier Ortueta, Managing Director of the AFM Cluster, expressed his optimism with regards to the 2022 edition of the event. "We have high expectations and great enthusiasm for this new edition of BIEMH. We expect a recovery show, a re-encounter with our domestic and local clients. The commitment by the Spanish manufacturers with our national show has always been spectacular, and we will have a show full of machines and interesting proposals for the market and visitors wanting to invest in advanced technologies. Productivity, sustainability and digitization are the key words of the moment", he assured.
Pello Rodríguez, General Manager of the Danobat Group to which Soraluce belongs, showed his confidence in the recovery of industrial activity in the post-covid era and in the new opportunities that will arise despite the uncertainty. "BIEMH is the showcase that enables us to present our capabilities in our home market, strengthens our position and attracts clients and suppliers", he remarked.
"We believe that a new horizon of opportunities will emerge, in which Danobat Group will continue to work towards being a benchmark in advanced manufacturing and digitalisation, because the company is characterised by its long-term vision, enabling it not only to evolve with the transformation of industrial manufacturing, but also to anticipate the challenges of the future, based on a sustainable business model in the broadest sense of the word", Pello Rodriguez added in his statement.
Campaigns to attract exhibitors and visitors have been launched in order to offer a major international event with leading companies from the five continents and the most comprehensive vision of 4.0 innovation. For the former, commercial efforts focus on countries like Germany, Austria, Belgium, China, France, the Netherlands, Italy, Poland, Portugal, United Kingdom, Switzerland, Taiwan and Turkey, in addition to Spain. They all have consolidated their presence in this technologically advanced showcase. In 2018, more than 1,751 exhibiting firms from 21 countries and 42,000 visitors participated in the 30th edition of BIEMH, which had an economic impact in excess of Euro 42.7 million.
BIEMH is organised by AFM, Advanced Manufacturing Technologies, and Bilbao Exhibition Centre, in collaboration with the Basque Government and the Spanish Machine Tool Importers Association (AIMHE).