"wire" and "Tube" 2020 cancelled. Next Edition of Trade Fairs according to cycle in 2022.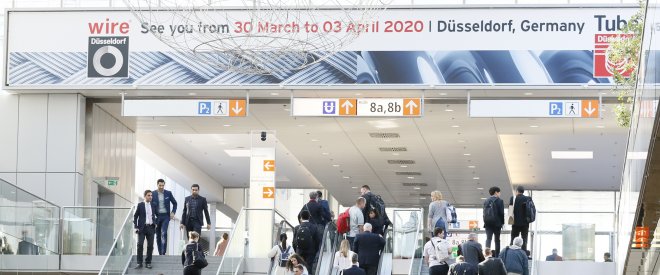 Dusseldorf/Germany, October 30, 2020. Following close consultation with both exhibitors and their partners Messe Dusseldorf has had to take the decision to cancel the "wire" and "Tube" trade fairs which were scheduled for December on account of the current Covid-19 infection developments. The next events will be held in their usual in accordance with their cycle once again in Düsseldorf in 2022.
You will find all our preliminary reports with all relevant trade fair news of the industries on this page. In spring and autumn we had already reported in our trade magazines DRAHT and WIRE. Due to the postponement of the fair to the beginning of December 2020, a new hall plan, as well as numerous cancellations of exhibitors, we have asked for the data and information and updated them accordingly under "wire 2020 update".
The editors of the trade magazines DRAHT and WIRE.
Photo: Messe Düsseldorf / ctillmann