05/05/2022 –
Steeltec has invested 60 million euros in its Emmenbrücke site
An investment in efficiency and a green future
Electric steel specialist Steeltec, a member of the Swiss Steel Group, has invested around 60 million euros in a new walking beam furnace and other equipment at its rolling mill in Emmenbrücke near Lucerne in Switzerland, making it one of the biggest investments in recent years for the company and the entire Swiss Steel Group.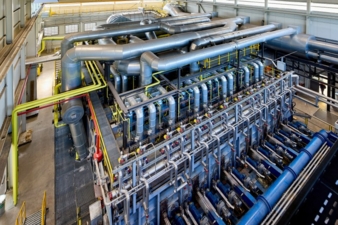 The new furnace enables significant efficiency gains in the rolling mill and for its customers and consistently ensures greater sustainability. Higher ring weights and a significantly more homogeneous quality of the rolled steel products are the result. Thanks to a high degree of specialisation, it uses its gas fuel very sparingly. It has been in operation since September 2021. As with its predecessor, it is a gas-fired walking beam furnace that continuously heats the billets coming from Steeltec's own steelworks.
 "With this investment, we are gaining in productivity and quality and can thus meet our customers' demands even better. With the previous furnace, which was more than 40 years old, we could only process steel billets weighing 1.8t, 11m long and with a profile of 152mm x 152mm," explains Florian Geiger, CEO of Steeltec. "In contrast, the new plant currently heats billets weighing up to 2.3t and 13m long."
Sustainability and increased efficiency
The longer and heavier products mean less process waste for customers, both in rolling and in further processing. In addition, thanks to the longer raw materials, customers' machines need to be reset less often for the same amount of material. In the rolling mill, the annual steel throughput increases by around 5,000t just because of the longer and heavier billets. In total, the new furnace can heat a maximum of 150t of steel per hour to up to 1,300 degrees. The rolling mill processes about 200 different types of steel at temperatures between 1100 and 1250 degrees.
 Ecologically, in particular, the new furnace is a considerable step forward. Despite its increased capacity and larger volume, it requires about 13 per cent less gas than the old plant. The waste process heat from the kiln is first used to preheat the billets after they enter the kiln. Afterwards, as much of the remaining waste heat as possible is decoupled into the district heating network of the city of Lucerne. Overall, Steeltec is reducing its CO2 emissions by just under 10% annually with the innovations in the rolling mill.
 Frank Koch, CEO of Swiss Steel Group Holding AG, explains: "The investment is trend-setting for us: we are thus following the Swiss Steel Group's strategy of positioning itself as a leader in the field of sustainable steel production." Steeltec is already one of the largest recycling companies in Switzerland, processing around 680,000t of steel scrap annually into high-quality, high-grade and free-cutting steel. Around 60% of the input scrap comes from Switzerland, the rest from neighbouring countries. "Like the Swiss Steel Group, Steeltec is aware of its responsibility towards the environment and society," says Florian Geiger. "Increasing efficiency from steel melting to bright steel production has always been part of the company's DNA and has made us one of the most ecologically efficient steel producers in our class. Across all production areas, Steeltec's carbon footprint is around 90% lower than that of the global industry average."
Additional modernisation measures
The implementation of the new walking beam furnace has triggered further modernisation steps in Emmenbrücke. In addition to the furnace and the new induction system, Steeltec has purchased two new Garrett coilers and a controlled cooling system for the finished rolled wire coils. The diameter of these rolled products is up to 50mm as round or hexagonal sections and they are coiled with the reels into coils with a diameter of up to 1,440mm and a maximum weight of three tonnes. In the downstream controlled-cooling system, the coils are cooled in a controlled manner at 16 positions from below with blown-in air. Cooling is slow, uniform, controlled and can be individually adjusted for each steel grade.
Further investments are planned
The latest investments are a commitment to Emmenbrücke and to Switzerland as an industrial location. At the same time, they prepare for further modernisation steps at the plant. The new walking beam furnace has been moved back 100m. This creates space for an expansion of the rolling mill and thus for even more product variety and even greater flexibility in the future. For Steeltec, it is important to always stay on top of what is technically feasible: "Our customers appreciate our high flexibility, high delivery reliability and Swiss punctuality. Together with our customers, we also solve very short-term challenges at a high quality level," says Florian Geiger. "We want to maintain and further expand this advantage of flexibility and the large variety of products."
Steeltec AG
Emmenweidstrasse 90
6020 Emmenbrücke, Switzerland
Contact person is Anina Berger
Tel.: +41 41 209-5263
anina.berger@steeltec-group.com
www.steeltec-group.com
About Steeltec
Steeltec produces quality, stainless and free-cutting steels as well as special bright steel for the automotive, mechanical engineering, hydraulics and apparatus construction industries. The largest production site is in Emmenbrücke, Switzerland, with a steel mill, a rolling mill, two bright steel mills and around 750 employees. Another 250 people are employed in production and sales units in Germany, Denmark, Sweden and Turkey. Steeltec recycles 650,000 tonnes of steel scrap annually for the production of long steel products. This corresponds to about half the amount of scrap produced in Switzerland and makes Steeltec one of the largest players in the Swiss circular economy. The company is part of the Lucerne-based Swiss Steel Group, which employs around 10,000 people in more than 30 countries.
About Swiss Steel Group
The Swiss Steel Group is one of the leading suppliers of individual solutions in the field of special steel long products worldwide. In both tool steel and stainless long steel, the Group is one of the leading manufacturers in the global market and is one of the two largest companies in Europe for alloyed and high-alloyed engineering steel. With nearly 10,000 employees and its own production and distribution companies in more than 30 countries on five continents, the company offers a complete portfolio of production and sales+services worldwide.